HOME BREW
DIRECTLY FROM THE DISTRIBUTION TANK
NON PASTEURISED
CAN ONLY BE TASTED IN THE PUB

Die Scone Blonde (the beautiful Blond)

This blond unfiltered and cloudy beer, is refreshing with 5,5° of alcohol and has a marvellous flavour of malt and fine hops.
1.50 € (25cl)
Diene Simon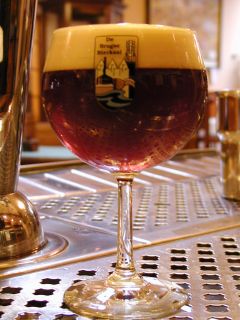 This beer is named in honour for the scientific Simon Stevin, who was born in Bruges in 1548. You can find his statue on the little market near the Brew Pub. This special dark beer of 6,5° has a slightly bitter taste of hops and roasted malt.
1.75 € (25cl)

Diene Stouterik (the Naughty One)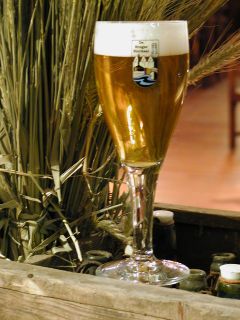 This beer is named in honour for the famous burgundies duke who lived in Bruges in the 15e century, Charles "the Naughty". The name serves also as a warning, because the beer has a high alcohol density.
This strong clear blond beer of 8,5° has very rich flavours and is a beer for real beer lovers.
2.50 € (33cl)

Special Cuvee
ADORNES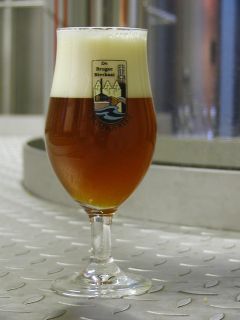 Brewed per season or for special occasions. Offer limited !
2.50 € (25cl)


> WHY BREWING ON THE SPOT
> OUR SPECIALTY

WHY BREWING BEER ON THE SPOT ?

So you can taste super fresh
NON PASTEURISED beer
If a beer is not pasteurised, the flavourings and nutrients are preserved. The lively yeast still in the beer has a high concentration of B12, B2 and B1. The beer is tapped directly from the distribution tank without adding C02.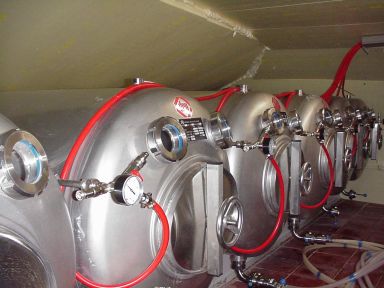 So, guarantied no headache after a few glasses !
DRIETAP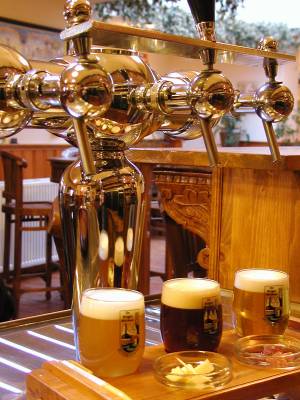 We serve you tasters of 3 home brew
in one time
The peculiar wooden plank with three glasses
and two pots of appetizers is a real must
5.00 €
DRIETAP "SPECIAL" (with cheese and salami)
6.20 €